Biography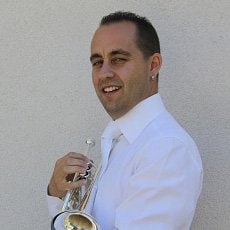 Coming from a large family of musicians, Patrick began studying music theory at the age of 7 and at the same time started learning the cornet with his father which has remained his favourite instrument throughout his career.
He soon enrolled at Géo-Pierre Moren's Music School in Vétroz, and in 1989 joined the Concordia band, becoming principal cornet in 1998.
In 1992 he joined the famous Brass Band 13 Etoiles, and in 1999 was given the much coveted position of principal cornet. With these two bands Patrick has won a number of prestigious prizes in local, national and international competitions.
As a soloist, Patrick has participated in a variety of competitions, earning the title of Swiss Junior Champion Cornet Player in 1997, and also vice-champion in all categories the same year. With the Elite quartet, Patrick won the 1st class quartet championships in 1993 and 1994.
Patrick also plays in many other ensembles such as the Festive Quartet, the Swiss Army Brass Band, the Cory Band and the Willebroek Brass Band and has also released a number of CDs such as the 2007 recording for his 30thbirthday entitled " Happy Anniversary - Mister Vergères " recorded with pianist Martin Fila and the Prague Philharmonic Orchestra.
In 2010, he teamed up with Belgian cornet players Raf van Looveren (Principal cornet of the Willebroek Brass Band) and HarmenVanhoorne (Principal cornet of the Buizingen Brass). Inspired by the famous Three Tenors – Plácido Domingo, José Carreras and Luciano Pavarotti, they interpreted pieces accompanied by piano or harmony. Following on from this the group and concept "The 3 Cornets" was created.
Patrick Vergères is Yamaha Artist.