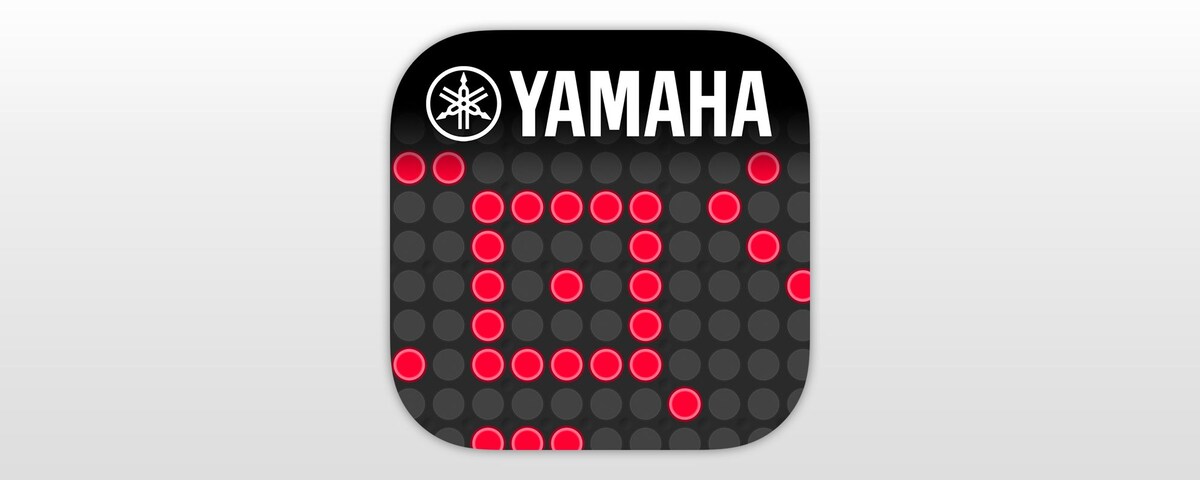 New interface that even beginners can understand easily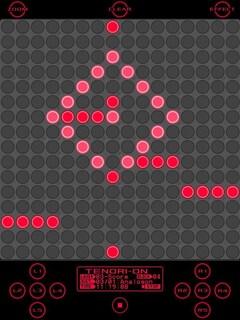 Even if you do not have any musical knowledge, you can create music intuitively by "placing" sounds on the 16 x 16 button grid that are performed musically and visually. On the 16 x 16 grid, time is represented horizontally, while the pitch is represented vertically. Both rythm and melody are combined on the grid to create music. When the sound is played, the buttons flash which also provides a stimulating visual performance. Up to 16 tones can be played simultaneously (16 layers), and it can store up to 16 song patterns in memory (16 blocks), which can be activated during a performance in real time to produce a rich variety of musical expressions.
253 different tone types perfect for electronic music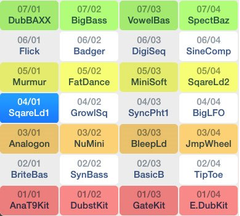 Now you can access DubstKit and other new drum-pad tones, get fat bass tones like BriteBas and Helium, and dazzling tones of DubBAXX, Voxdance, VoodooWh, which were not previously available on the TENORI-ON, which makes this app a perfect place to start with your next project.
2 master effect systems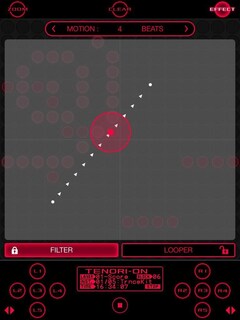 Only the TNR-e comes with a new attractive feature: 2 master effect systems. Use the XY pad interface to apply the FILTER and six other types of effects to make your music come alive! (seven types: FILTER, DICIMATOR, DELAY, FLANGER, NOISE, LOOPER, ISOLATOR)Use ISOLATOR and FILTER to create breaks, then, use the LOOPER to create a long trigger effect and a strong hook. EDM can be used to easily develop the song as well. Get the most out of live performances through improvisation.
Share Your Sounds
SoundCloud is a hassle-free way to share data.
6 Modos de Execução
There are six different performance modes for each layer: - Basic score mode: time is on the horizontal axis and pitch is on the vertical axis - Random mode: Sounds are played in the order that they were entered, and rotating the device produces a cascade of changing melodies and rythms for your enjoyment - Draw mode: Sounds are played in response to dragging your finger on the grid, like drawing a picture - Bounce mode: Sounds are produced when the lights fall, just like a bouncing ball - Push mode: Continuously change the tones as you perform - Solo mode: Easily change the speed and pitch to play as a soloist
Inter-App Audio feature
Using the iOS7 Inter-App Audio feature, you can control the sound sources of other compatible apps from the TNR-e, which gives you a wider range of sounds to choose from.
Outras Características
- Newly designed tones suitable to dance music - Audiobus compatible- Guide feature that explains button operations- Multi-session feature for multiple players- Audio recording- User Voice function- Yamaha Server for file sharing- AudioCopy compatible
Nota
* The Game Center feature is a network feature provided by Apple. It is mainly used for multi-player gaming.* You must have an Internet connection to participate in a network session. You also have to sign in to the Game Center.* Apple and the Apple logo are trademarks of Apple Inc., registered in the U.S. and other countries. iPad is a trademark of Apple Inc. App Store is a service mark of Apple Inc.