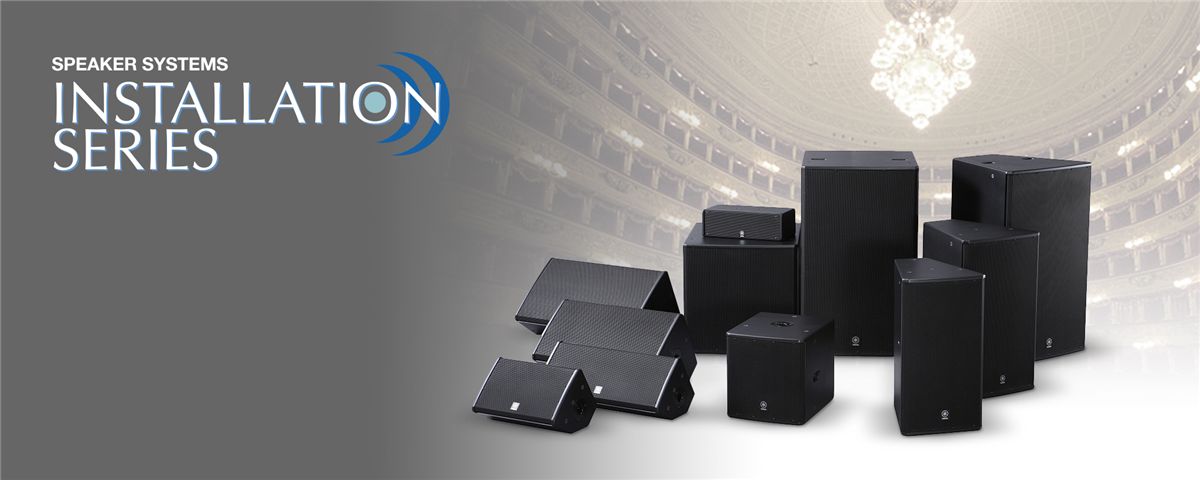 A Wide Selection of Models Accommodate the Widest Possible Range of Installations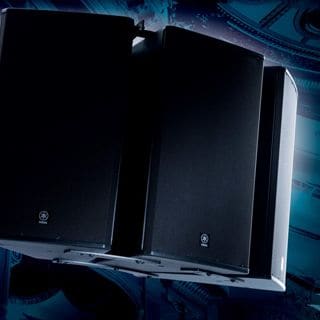 Two important criteria for speakers to be used in installations are installation/positioning ease and service area controllability. The Yamaha Installation Series includes 16 different models with speakers from 5 to 15 inches in 2-way, main, support, floor monitor, subwoofer, and other configurations. With a range of driver sizes, single and dual woofers, and a variety of external configurations, these speakers integrate easily into a wide variety of installations. The 12-inch and 15-inch models are available with four different coverage angles. By selecting and combining the appropriate models it is possible to create systems that provide any type of coverage required - from near to far, narrow to wide. Furthermore, all models feature rotatable horns to allow vertical or horizontal operation. In addition to multiple rigging points for convenient flying/hanging installation, specialized U-brackets and array frames are available to accommodate just about any installation requirements. (Four eye bolts are provided with all models except the IF2205 and IF2205W).

Consistent Sound and Phase Characteristics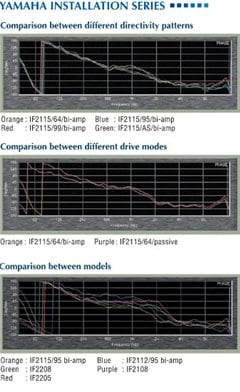 Most installations involve the positioning of multiple speakers at numerous locations. The Installation Series offers a range of models that can be combined as required while delivering the most natural sound field possible, with the greatest controllability. The Installation Series has been specifically designed to provide an acoustic "white canvas" on which the most delicate tonal gradations will stand out clearly. The entire lineup has been designed with consistent phase characteristics so that they will deliver optimum performance in any combination, and respond smoothly to equalization for unprecedented installation flexibility and natural sound.
A Range of Processing Data Available for Yamaha DME Series Processors
The Installation Series speakers will deliver peak performance when used with Yamaha digital mixing consoles such as the PM5D, or DME series digital mixing engines. In particular, a range of speaker processing programs specifically designed to bring out the best in the Installation Series are available for DME series digital mixing engines. Even with complex multi-speaker systems you only need to select the appropriate program to be running at optimum performance in no time.
Cabinets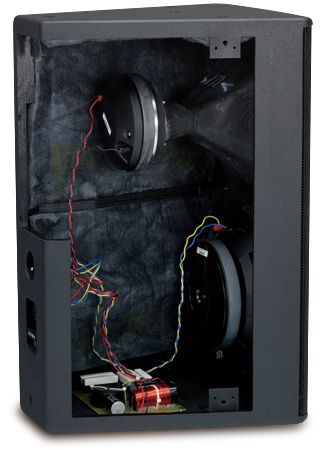 Building a high-performance speaker cabinet is a lot more complex than simply building a solid box. The materials used, size, shape, bracing, porting, acoustic treatment and other factors all interact to determine the final performance of the design. This can be partly determined by good old science and engineering, but a lot also hinges on experience and exhaustive listening and field tests. Yamaha Installation Series Speakers feature cabinets constructed from high-quality 11-ply Finland birch, as much as 16 millimeters thick in most models. Solid gluing of all joints and critical placement of internal bracing results in cabinets that are virtually indestructible as well as free from resonance. The cabinets also feature a wrap-around grille that, in addition to being aesthetically pleasing, minimizes reflections from the cabinet frame.
Horns

To allow the system designer maximum freedom and flexibility, all Yamaha Installation Series Speakers feature rotatable horns in a variety of configurations. 60°x 40°, 90°x 50°, and 90°x 90° horns are available for the 12-inch and 15-inch models, while 60°x 40° and 90°x 50° horns are available for the 3-way designs. 8-inch and 5-inch models feature 90°x 60°horns. Horns are made from fiber-reinforced plastic to minimize unwanted resonance.
Networks

Selected top-quality crossover network parts including heavy-gauge inductor wire, large film capacitors, and painstakingly designed circuit boards deliver unmatched sonic quality and reliability. Heavy 16-gauge wire is used for all internal wiring.
Drivers

HF drivers feature one-piece titanium domes formed to precision tolerances for superior sound as well as long-term reliability. 12-inch, 15-inch and 18-inch woofer cones have been specially treated for water resistance, providing optimum durability in the widest range of operating environments.
Acabamento

The fact that speakers must sound good goes without saying, but in permanent installations they have to look good and match the interior of the venue, too. Yamaha Installation Series Speakers are available in black or white, featuring a durable textured paint. But if basic black or white doesn't suit your visual requirements, they can be easily repainted as required.
Grille & Logo

Extremely rugged 14-gauge steel grills with a 63% aperture ratio protect your speakers without detracting from their sonic performance in any way. An acoustically transparent foam is located behind the grilles for a smart, unobtrusive looks without degraded sound. The logo plate can easily be rotated to match the speaker's orientation, or removed completely.
Connectors & Mode Selectors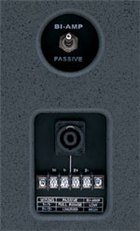 To match the widest possible range of systems and wiring arrangements, Yamaha Installation Series Speakers feature parallel-connected barrier-strip and Neutrik NL4 connectors (NL8 on 3-way models). The IF2112/AS, IF2115/AS, IF2108, and IF2208 models feature an additional Neutrik NL4 connector - 1 barrier strip + 2 Neutrik NL4 connectors - to facilitate wiring in monitor applications. 12-inch and 15-inch 2-way models have a selector on the rear panel that allows easy switching between bi-amp and single-amplifier drive modes. The 8-inch and 5-inch models are designed for single-amp use only. 3-way models allow switching between tri-amp and bi-amp modes. Dual-woofer subwoofers also allow switching between parallel and discrete modes for maximum system compatibility and flexibility. All mode switches are recessed to prevent inadvertent operation.
Pole Mount Sockets & Handles

Since the "multi-angle" IF2112/AS, IF2115/AS, IF2108, and IF2208 models are likely to be used for floor monitoring or other applications that require maximum portability, they are equipped with handles that make moving them about comfortable and easy. They also feature pole-mount sockets so they can be easily pole mounted wherever you need extra monitor or fill sound.
Rigging

Multiple M10 rigging points are provided for shoulder eye bolts or optional U-brackets. Four eye bolts are supplied with each speaker. All hardware is industry-standard, and is compatible with third-party mounting accessories. Horizontal and vertical array frames are available in black or white to match the standard speaker finishes.
Shape

In addition to having a significant effect on a speaker's sound, the shape of its cabinet is an important factor for handling and setup versatility. The IF2112/AS, IF2115/AS, IF2108, and IF2208 models feature a "multi-angle" design that allows them to be used as floor monitors as well as for house sound. The IF2205 features a compact "stair-step" configuration. All other full-range cabs have a 30º trapezoidal shape that results in minimum interference when the speakers are combined in arrays.
Yamaha Sound System Simulator: Y-S3

Yamaha Sound System Simulator is an innovative software program that offers a precise and easy-touse simulation of sound pressure level distribution, frequency characteristics, and other attributes when installing speakers in any type of venue.