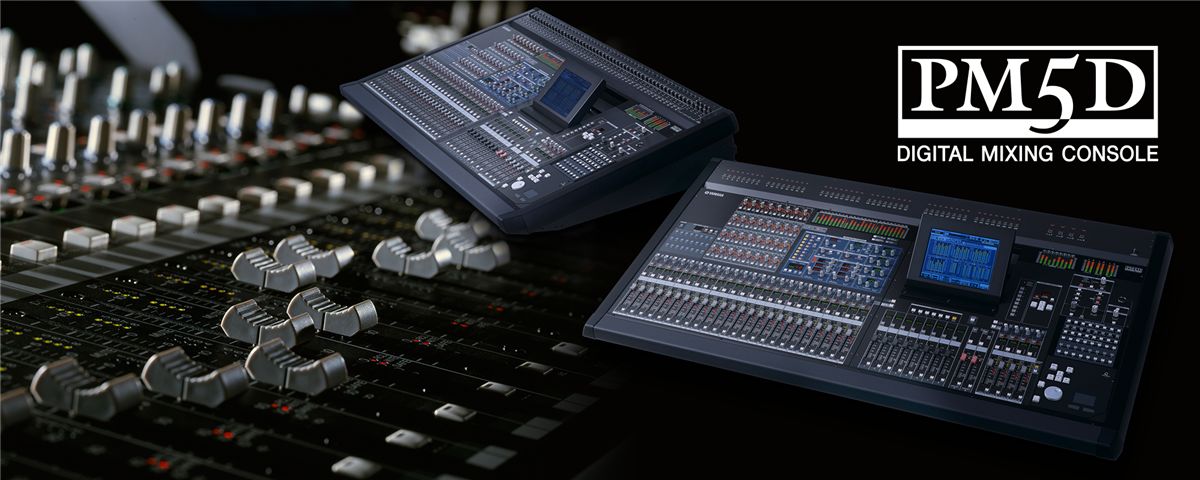 PM5D
MESA DE MISTURA DIGITAL
96 Microphone Inputs at 96 kHz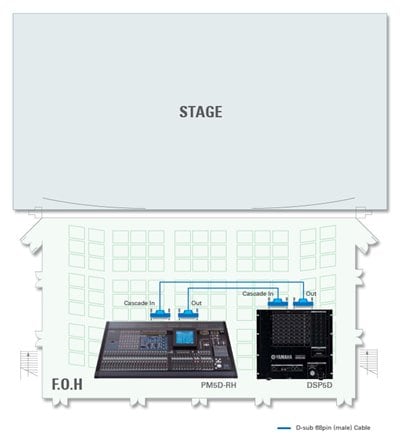 The combination of PM5D console plus DSP5D digital mixing unit gives you 4 input fader layers, with a total of 96 mono and 8 stereo input channels that will comfortably handle large-scale applications. And of course your DSP power is doubled at the same time, so you can apply any required processing to all of those channels without having to worry about limits. What's more, all analog inputs and outputs on both the PM5D console and DSP5D digital mixing system are directly accessible via standard XLR type connectors for direct, fuss-free connectivity. The fact that you can use all 96 inputs at the full 96 kHz sampling rate without compromising performance or capabilities in any way means unbeatable audio quality for live recording*. * When the system is running at 96 kHz sampling rate and output 96 kHz digital audio to the recorders, the PM5D EX system outputs up to 48 channels of digital audio (PM5D: 32 channels, DSP5D: 16 channels). When the recording system set to 48 kHz sampling rate, the PM5D EX can output up to 80 channels (PM5D: 48 channels, DSP5D: 32 channels).
Open Architecture for Flexible Live Sound and Recording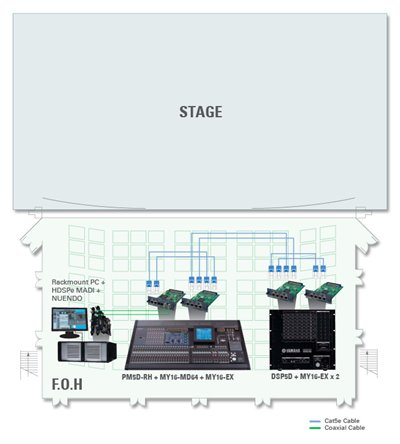 Both the PM5D console and DSP5D digital mixing system feature expansion slots that accept a wide range of Yamaha Mini-YGDAI cards as well as cards from other manufacturers. Four slots on the PM5D and two on the DSP5D allow not only I/O expansion in a variety of analog and digital audio formats, but also digital networking via CobraNet and EtherSound protocol. This type of expandability further enhances the system's utility for live recording applications because you have a choice of formats you can use to feed stereo or multi-channel audio to a DAW. A MADI interface is an excellent choice for this type of connection, allowing easy, efficient transfer of multiple audio channels to a DAW system for top-quality live recording. The example setup shown below connects the PM5D EX system to a Steinberg Nuendo DAW with 64-channel bidirectional audio transfer capability.
Digital Cabling Capability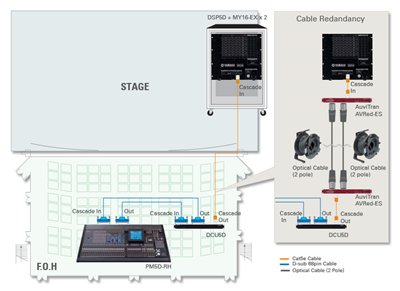 Although you can directly connect the DSP5D digital mixing system to the PM5D console via standard cascade cables if they are to be used in relatively close proximity, if you want to locate the DSP5D on stage - for use as remote I/O for example - the DCU5D Digital Cabling Unit lets you locate the DSP5D as far as 120 meters* from the PM5D console, connected only by one high-performance Cat-5 or better Ethernet cable. The DCU5D converts signals appearing at the PM5D's 68-pin D-sub cascade connectors to and from Cat-5 audio, dramatically reducing cabling requirements while maintaining solid audio and control reliability over extended distances. By adding redundant link management devices such as the AuviTran AVRed-ES units shown in example below, it becomes possible to connect the PM5D and DSP5D via redundant optical cabling over distances as great as one kilometer!
Flexible Buses Cascade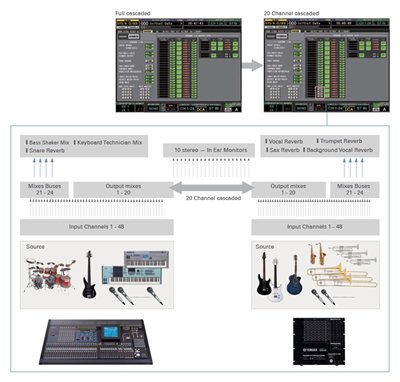 You can run all 24 PM5D and DSP5D mixes cascaded in the normal way, or unlink specific buses to allow independent processing at the PM5D and DSP5D. In the example below 20 of the mix buses are cascaded in the normal way, while the remaining four mix buses are unlinked so they can be used independently to apply effects at the PM5D and DSP5D.