STAGEPAS 600BT/400BT/600i/400i | PA Systems | Yamaha Commercial Audio
All the World's YOUR Stage
When it comes to portable live sound solutions, it just doesn't get any better than STAGEPAS. With more power, more features, improved functionality, and even better sound, Yamaha's all-in-one PA systems continue the STAGEPAS legacy of providing everything you need to transform any environment into your own stage.
The new STAGEPAS 600BT and 400BT are the successors of the STAGEPAS 600i and 400i portable PA systems. Equipped with a Bluetooth wireless audio function the new STAGEPAS-BT adds even more flexibility to your portable sound reinforcement.
The STAGEPAS features two sleek, lightweight speakers and a detachable powered mixer, along with one pair of speaker cables and a power cord, giving you a complete, extremely portable sound solution that can be set up quickly and easily in a variety of configurations and environments.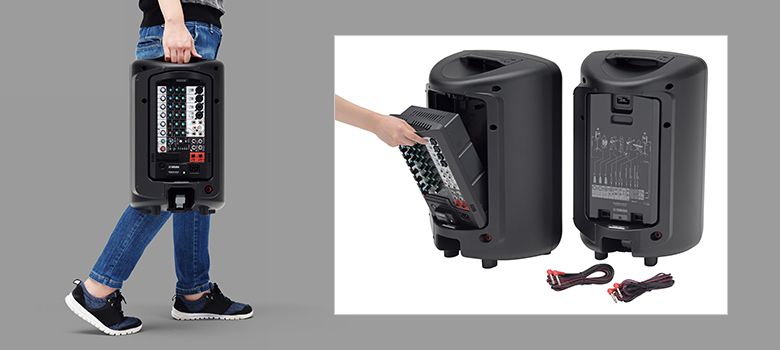 Compact and light enough to carry by hand, STAGEPAS is an all-in-one PA system that you can take literally anywhere.
High Power, High Quality Sound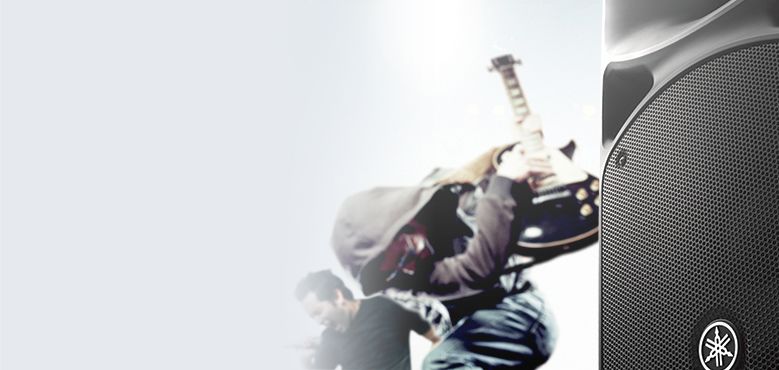 Delivering 680 and 400 watts of power respectively, the STAGEPAS 600BT and 400BT offer serious performance for a PA of this size, allowing you to meet the demands of a wide range of situations. What's more, the speaker design lets you deliver evenly-distributed, high-quality sound to a very wide coverage area, so that the entire audience shares the same sonic experience.
Bluetooth Wireless Audio Streaming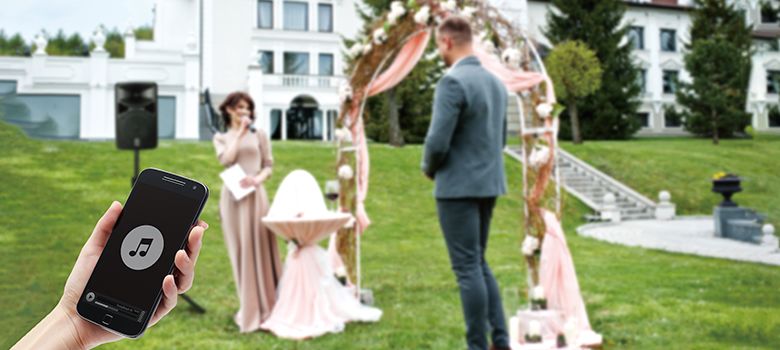 Equipped with a Bluetooth input for wireless audio streaming from smartphones or tablets, the STAGEPAS-BT models let you seamlessly play backing tracks for gigs, or set the tone of parties, conferences, or events with the audio playback of your choice.
The STAGEPAS was designed to offer high quality sound, simply and quickly to let you do what you do best. Whether you're giving a speech or playing a gig, STAGEPAS is equipped with intelligent new features that provide simple, intuitive control of optimized settings, making it easy to dial in your perfect sound in a matter of seconds.
Model

STAGEPAS 600BT

STAGEPAS 400BT
System Type
Powered mixer with 2 passive speakers
Powered mixer with 2 passive speakers
Mixing channels
10
8
Analog inputs
4 mono mic / line + 6 mono / 3 stereo line
4 mono mic / line + 4 mono / 2 stereo line
Bluetooth Connection
Bluetooth Ver.4.1, ASDPv1.2
Maximum Range: Approx. 10m
er.4.1, ASDPv1.2
Bluetooth Ver.4.1, ASDPv1.2
Maximum Range: Approx. 10m
er.4.1, ASDPv1.2
Channel EQ
3-band (HIGH Shelving: 8kHz, MID peaking: 2.5kHz, LOW Shelving: 100Hz)
2-band (HIGH Shelving: 8kHz, LOW Shelving: 100Hz)
Power Rating (Dynamic)
680W (340W + 340W)
400W (200W + 200W)
Speaker Transducers
LF: 10" (25cm) cone, HF: 1.4" (3.56cm) voice coil compression driver
LF: 8" (20cm) cone, HF: 1" (2.54cm) voice coil compression driver
Dimensions (W x H x D)
Speaker: 335 x 545 x 319mm, Mixer: 348 x 197 x 135mm
Speaker: 289 x 472 x 275mm, Mixer: 308 x 180 x 116mm
Net Weight
25.6kg / 56.4lb (2 x Speaker 10.9kg + Mixer 3.8kg)
18.3kg / 40.3lb (2 x Speaker 7.7kg + Mixer 2.9kg)
| Model | STAGEPAS 600i | STAGEPAS 400i |
| --- | --- | --- |
| System Type | Powered mixer with 2 passive speakers | Powered mixer with 2 passive speakers |
| Analog inputs | 4 mono mic / line + 6 mono / 3 stereo line | 4 mono mic / line + 4 mono / 2 stereo line |
| Digital inputs | USB Audio IN: iPod / iPhone exclusive | USB Audio IN: iPod / iPhone exclusive |
| Channel EQ | 3-band (HIGH Shelving: 8kHz, MID peaking: 2.5kHz, LOW Shelving: 100Hz) | 2-band (HIGH Shelving: 8kHz, LOW Shelving: 100Hz) |
| Power Rating (Dynamic) | 680W (340W + 340W) | 400W (200W + 200W) |
| Speaker Transducers | LF: 10" (25cm) cone, HF: 1.4" (3.56cm) voice coil compression driver | LF: 8" (20cm) cone, HF: 1" (2.54cm) voice coil compression driver |
| Dimensions (W x H x D) | Speaker: 335 x 545 x 319mm, Mixer: 348 x 197 x 135mm | Speaker: 289 x 472 x 275mm, Mixer: 308 x 180 x 116mm |
| Net Weight | 25.4kg / 56.0lb (2 x Speaker 10.8kg + Mixer 3.8kg) | 17.8kg / 39.2lb (2 x Speaker 7.5kg + Mixer 2.8kg) |
STAGEPAS 600BT/400BT/600i/400i | PA Systems | Yamaha Commercial Audio