Interview: Bringing Shure and Yamaha Technology Together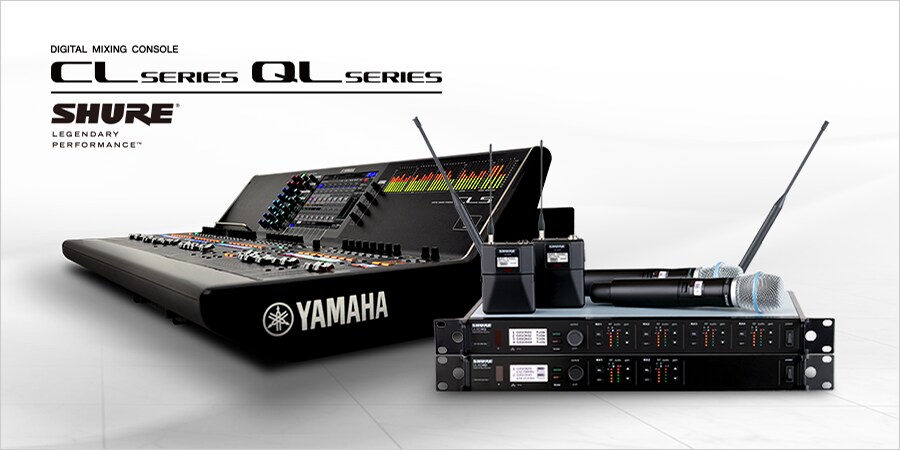 The seamless integration of Yamaha's CL/QL Series consoles with Shure's ULX-D digital wireless systems provided the users with significantly enhanced operability. This interview explores the intimate collaboration between two companies through the eyes of each project leader in product development.
How did the collaboration between Shure and Yamaha come about?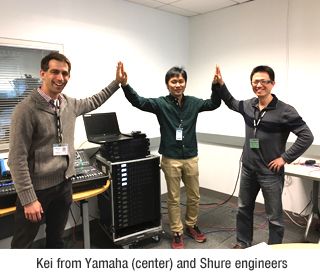 Kei:
We were already working with Shure on sound technology related to the Dante audio network protocol back in 2013, but really wanted to collaborate on providing remote monitoring and control of wireless microphone receivers directly from our mixing consoles. Both companies agreed that the capability would be convenient for users, but a number of hurdles remained. Repeated technical discussion eventually cleared the way, and we believe that it was the depth of those discussions that led to the success of our eventual collaboration.
Rob:
At Shure we are always looking for ways to enhance the workflow of our customers and we felt the integration of wireless microphones into the interface of the console would offer compelling benefits for users. The networking capabilities of the Yamaha mixers and great support from Yamaha made this a perfect fit.
What is Shure's opinion of the Yamaha CL/QL series consoles?
Rob:
The Yamaha CL/QL series consoles are technically sophisticated, yet extremely easy and intuitive to use. They provide many ways to accomplish a task, and therefore adapt to an individual users personal preference for workflow.
What is Yamaha's opinion of the Shure ULX-D wireless system?
Kei:
The ULX-D devices are compact and refined. In addition to microphone and wireless technology accumulated over years of development, the ULX-D system incorporates Dante audio networking as a standard feature. Not only that, but the user interface and remote application (Wireless Workbench) are extremely easy to use. I was very impressed from an engineering perspective, and learned a great deal from Shure's explanation of the ULX-D features and LED implementation.
Tell us about the relationship between wireless microphones and mixing consoles in a live sound system.
Kei:
Mixing consoles can only function with appropriate input. Because wireless microphones have become a primary input source in live sound applications, we felt that collaboration between Shure and Yamaha would be meaningful for the entire industry. The ability to keep an eye on wireless microphone signal strength, remaining battery, mute status, and potential problems directly from the console rather than having to use a separate computer is a huge advantage for mixing engineers. Both of our companies are determined to deliver quality and reliability that ensure consistent, uninterrupted sound, and that enhanced reliability is another major benefit for live sound applications.
Rob:
Agree completely with Kei's comments. The mix position is where most of the audio control happens in live sound. Wireless microphones are essential to many shows but bring additional factors such as the RF link and battery status which ultimately are part of managing the audio system. This integration between Yamaha's CL series consoles and Shure's wireless systems puts the wireless microphone status and control into context with the other channel information that is easily accessed from the mixing console.
Tell us more about the collaboration, and any details you focused on.
Kei:
It was over a year ago that I was placed in charge of Yamaha's side of the project and began concrete discussions with Shure. Development hadn't even started. We didn't have a protocol for remote control, so we began by sharing protocol ideas. The first six months were dedicated just to settling that issue. By considering proposals from both parties and carefully working out the technical details we were able to come up with a very satisfactory solution. Once the protocol had been decided on, progress was smooth.
In order to achieve the greatest possible reliability and convenience, we aimed to provide network control that would connect easily but would not disconnect easily. For the user interface the emphasis was on comprehensive status monitoring and a system overview that would be easily visible from the mixing position. Our plans were passed on to Shure for review and quality checks at every stage of the development process.
Rob:
One of the interesting outcomes of this collaboration is the ability to access the gain stage of the wireless hardware from the mixer. In particular, wireless channels connected via Dante can be adjusted remotely, which means that the level of the input signal can be controlled in a familiar way, from the same place that the input stage for wired mics is adjusted.
Were there any problems during the joint development process, or any interesting episodes?
Kei:
The distance between Yamaha in Japan and Shure in the U.S.A limited the number of times we were actually able to meet face-to-face. There were two meetings in the U.S.A and two in Japan: a total of four. Most communication took place via email, but due to language issues and the fact that some of the subject matter was simply difficult to convey via email, we have to admit that development was slow at times. There were even cases when we proceeded on the basis of a misunderstanding, but by taking full advantage of every opportunity to communicate and working to deliver the new features to our customers as quickly as possible, dedication on both sides eventually achieved the desired results. We are most grateful to the Shure staff who patiently worked with us throughout the project. Thank you! We also have fond memories of how much the Shure team enjoyed a local "Yakitori" restaurant we introduced them to when they visited Japan.
Rob:
The technical collaboration went extremely well. It was clear from the beginning of the collaboration that Yamaha had very experienced networking engineers assigned to the project. We collaborated on virtually every aspect, from the highly technical networking aspects, to the presentation of the information on the screens, to the testing of the software. There are 2 memories that will stay with me for a long time, one was walking to a restaurant for lunch in the pouring rain (that actually was a lot of fun!), and the other was working through some software issues at a face to face meeting in the US in one of our labs, no one would leave until the software problem was solved - it was a great collaboration.
In closing, what benefits can users expect from this important collaboration, and is there anything you'd like to add?
Kei:
We are confident that users of the related products from Shure and Yamaha, including new users who are thinking about acquiring the products in the future, will benefit from significantly expanded capabilities and reliability. We hope that customers will understand that purchasing a Yamaha product not only provides Yamaha benefits, but connects the user to a range of other products as well. We are determined to continue collaborating with industry leaders to ensure that trend continues.
Rob:
We hope that users find this to be an efficient way of working with the audio system as a whole and that the benefits are realized on a system level, perhaps making setup faster or inspiring more confidence during the show. We believe it adds value to each of the products involved but that the real value is in the overall solution and the way users work with it.
Profile: Kei Soma, Yamaha PA Development Group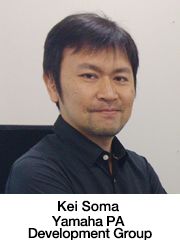 Profile: Kei Soma, Yamaha PA Development Group
Kei Soma joined Yamaha in 2009. After gaining experience in powered speaker and analog mixer development he joined the R&D team and began market research in the U.S.A in 2010. After returning to Japan he was placed in charge of developing network communication for digital mixers while simultaneously working as system design leader for the CL and QL series digital mixing consoles. Kei has played a major role in the design and development of the DSR series, MGP series, CL/QL series, R series, and the Tio1608-D I/O rack.
Profile: Rob Fuhlbrugge, Shure Product Development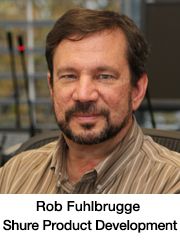 Profile: Rob Fuhlbrugge, Shure Product Development
Rob Fuhlbrugge is the Senior Director of Engineering and Product Development at Shure. Since joining the company in 2001, he has been responsible for researching and identifying technologies that allow Shure to expedite product development at Shure.