Yamaha RIVAGE PM Mixing Consoles Shine for Thunder Audio at Detroit Jazz Festival
Yamaha RIVAGE PM Mixing Consoles Shine for Thunder Audio at Detroit Jazz Festival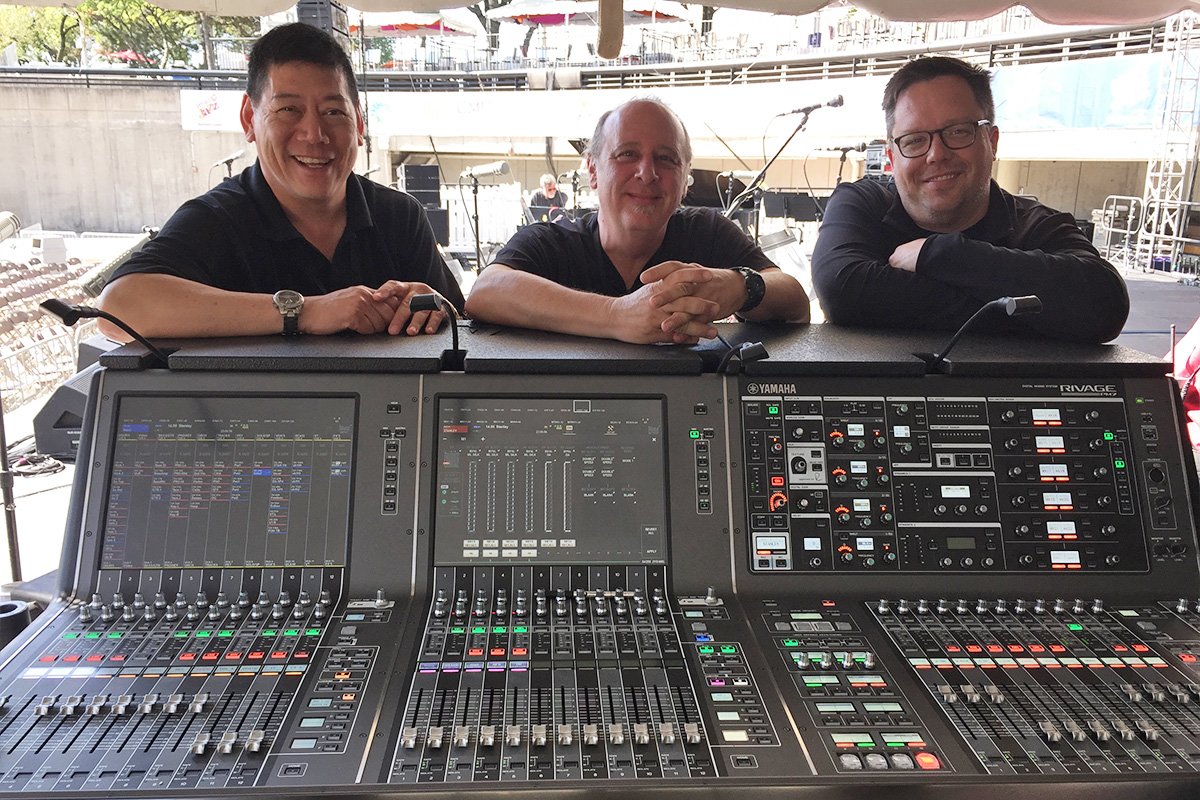 Thunder Audio Inc., now in its 40th year of business, is one of the largest audio production companies in the U.S., handling a diverse annual workload of corporate events, national touring concert acts, local and national live productions and festivals. To handle the demanding and diverse needs of each event, the company has found its new audio mixing standard: the Yamaha RIVAGE PM7 digital mixing console.
The Detroit-based company has expanded its use of the RIVAGE PM7 over the past few years, recently purchasing units to add to its permanent inventory.
"This console fits every market niche," said Greg Snyder, Vice President of Thunder Audio. "It's becoming accepted worldwide, as more engineers around the world get a chance to work on it. The PM7 handles diversity so well and smoothly."
The company has one of its RIVAGE PM7s on a fall tour with Modest Mouse and another recently finished supporting Tony Bennett, just to name a few of its projects. But one of Thunder Audio's biggest engagements was last month's Detroit Jazz Festival, one of the world's largest, free international jazz festivals.
This was Thunder Audio's fifth consecutive year supporting the festival and for the 2019 event, the company used a set of RIVAGE PM consoles for FOH and monitors on the main Carhartt Amphitheater Stage.
"Every year for this festival, our goal is the same: deliver an acoustical consistency across all the stages, for the performers and the audience," said Snyder. "The RIVAGE PM consoles brought a noticeable difference to our systems, and the combination of the new consoles with the existing systems made a noticeable difference in the sound. We're amazed by how linear it is and its ability to interface seamlessly with our video team and archival truck, facing all challenges whether FOH, monitors or recording a trio or a full orchestra. The consistency through that desk is superb and its use of SILK processing is spectacular to minimize large sweeping equalizations. It puts you in the sweet spot and you just roll with it."
For the festival, Thunder Audio hired independent veteran engineers Tim Wong and Jon Laterza, who "really made the consoles shine," Snyder said. Both engineers often request and use the RIVAGE PM series at other festivals and corporate A/V events domestically and overseas.
"The sound is really great," said Wong. "Also, it is easy to lay out in a way that makes sense for me and then quickly change it for a guest engineer, critical for live events."
"The RIVAGE PM10 and PM7 sonically just sound great," said Laterza. "Features like the SILK processing and DaNSe plug-in support raise everything to a whole other level. It has changed how I mix shows. The console layout is intuitive and user-friendly. I find myself hardly looking at the surface; my hands just go to where they need to be and I can keep my attention on the stage."
Both engineers are also equally impressed with the console's capabilities, especially its custom layering.
"In Detroit there are no soundchecks," Wong said. "The challenge is creating manageable situations as fast as possible. Often, for acts with a large number of inputs we split the console for a visiting engineer. They typically take their lead parts and whatever else they want on two banks and we can help manage overall gain structure, the outputs and stems coming in on one bank. This also works well for events combining orchestras and bands, really any event with lots of inputs and no time to soundcheck."
Laterza agreed "the custom layer functions on each bank are invaluable," adding the RIVAGE PM10 and PM7 have been his consoles of choice for more than two years on music, corporate and broadcast events.
For Snyder and the Thunder Audio team, it all comes back to consistency and uniform sound quality at every type and size of event. They added that as more engineers and artists experience how the RIVAGE PM series can add to their performances, the consoles will quickly rise to industry-standard status.
"Manufacturers sometimes forget, you can develop the coolest console, but if it doesn't deliver what engineers really need or if they don't have time to build a show on it, then it's going to take a long time for that console to become an industry standard, if ever. That won't be the case with these consoles, and we couldn't be more excited about that."
Yamaha RIVAGE PM Mixing Consoles Shine for Thunder Audio at Detroit Jazz Festival