Mega-Baptist Church Upgrades with Dual Yamaha RIVAGE PM10 Digital Audio Consoles
Mega-Baptist Church Upgrades with Dual Yamaha RIVAGE PM10 Digital Audio Consoles
First Baptist Church Woodstock Part of Yamaha Family Since PM1D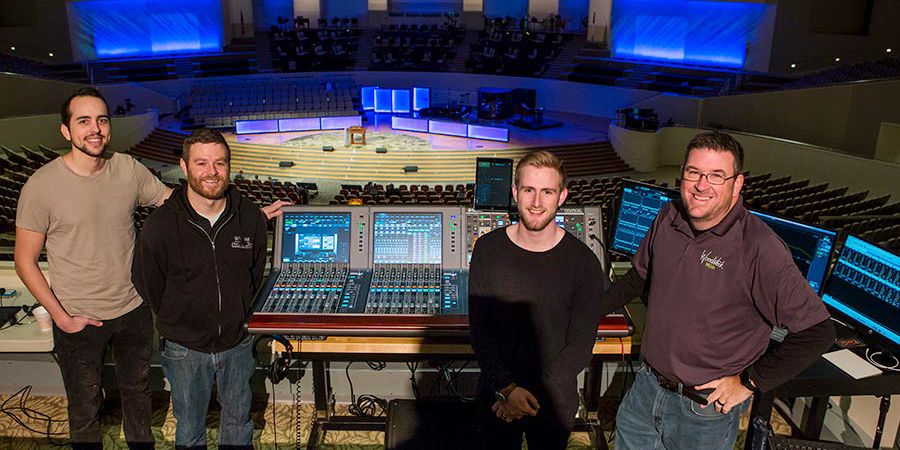 L to R: Brent Cole, Steve Davenport, Josh Wright, and Jamie Karnes at PM10 front of house
The First Baptist Church Woodstock is a mega-church in the northwestern Atlanta suburb of Woodstock, Georgia and a congregation that is especially concerned with community outreach. Its traditional worship sanctuary seats 7,200 with a 60-piece orchestra and 150-voice choir. They have been a part of the Yamaha Digital Console family ever since its two PM1Ds were installed 15 years ago, and it became time to upgrade to two new state-of-the-art PM10 RIVAGE Digital Audio Consoles. The consoles were purchased through Capitol Design Group, Jacksonville, FL.
"When you deal with volunteer operators, you want to have the ability to keep things familiar," state Jamie Karnes, Director of Audio, First Baptist Church of Woodstock. "I have been using Yamaha consoles since 1988; my first Yamaha console was a M916. Yamaha customer service is second to none, and that will always keep me coming back to Yamaha." Karnes said he personally saw the PM10 three times prior to purchasing the pair, and his team was able to attend demos that the church hosted in the fall of 2016.
"As far as features are concerned, the head amps and plug-ins are huge game changers," said Karnes. "The ease of use and flexibility of the console, i.e. custom layers, buttons, and knobs make it so easy to change gears per operator. But, the biggest game changer in my opinion, is the SILK feature."
When asked about using Dante, Karnes said, "We are using Dante for a digital split off from the RPio I/O frames to our broadcast room and the HY144-D for Virtual Sound Check. All is working very well. Our Dante network is being transmitted over fiber lines we had pulled during our prep for the PM10 install. The infrastructure change over was one of the most important pieces for the RIVAGE and Dante installation. We had it pulled, terminated, and certified by Hamilton Audio/Visual Services who made it very turnkey for us. Everything worked well the first time we tried it."
The church also houses Yamaha DM2000 digital consoles in their broadcast suite that are being installed with MY16-Dante cards in order to receive the RPio digital split. A Yamaha M7CL will be upgraded to Yamaha CL5 digital consoles for their 2,400-seat contemporary worship facility where there are 6 to 10 musicians on stage each week. "We had fiber pulled to that area while we were doing all the infrastructure to our main sanctuary," Karnes notes.
Mega-Baptist Church Upgrades with Dual Yamaha RIVAGE PM10 Digital Audio Consoles