RIVAGE PM10 & Adelaide Symphonic Orchestra: a familiar Yamaha feeling
RIVAGE PM10 & Adelaide Symphonic Orchestra: a familiar Yamaha feeling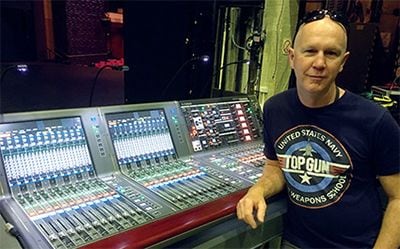 Audio Technology – Australia's leading magazine for sound engineers and recording musicians – recently visited The Festival Centre in Adelaide where the production team put the mighty RIVAGE PM10 to use with the Adelaide Symphonic Orchestra.
The Festival Centre in Adelaide has been one of the first real pitstops for the PM10 in Australia and Audio Technology wanted to get the scoop on how it sounds and feels from monitor engineer, Craig McCowat.
McCowat regularly mixes monitors at Festival Centre and got to use the console on two shows; when the Adelaide Symphony Orchestra played screen classics for the Movie Masterpieces show, and a concert featuring Marussia, the soprano who sings for Andre Rieu.
Being a monitor engineer, McCowat is a frequent Yamaha user — an M7CL is the regular workhorse at the Festival Centre, and he often uses CL5s and PM5Ds too. His first impression of RIVAGE PM10 was that it would be very familiar for anyone that's previously worked on Yamaha consoles.
"It's like a cross between a PM5D and the newer CL5," said McCowat. "The menu system is very familiar, as is driving it, with a full cluster of tactile control for auxiliaries, compression, gating and EQ controls on the surface. "With monitors, you've got to be quick on the console, you don't want to be wasting your time buried in menus and screens. Within 5 to 10 minutes I felt comfortable enough to do a gig. I'm not joking. That's probably a lot to do with my background of working on Yamaha consoles for many years."
The spec for the Adelaide Symphonic Orchestra is typically 14 sends of monitors onstage, depending on which artist is performing alongside the orchestra. Often there's front line wedges, sidefill, sends throughout the orchestra sections, and different sends for the principal players. The channel count coming into the monitor console is around 60 channels, with the string sections pre-stemmed at FOH.
Other than it's familiarity, McCowat was impressed with the feel of the build, "It's like jumping back into old school, serious console land — the faders are silky smooth to touch, not cheap and plasticky." He also thought it sounded "sensational", especially with the onboard Rupert Neve transformer-emulating Silk control. "We dialled Silk up on the high strings and it added this noticeable beautiful low mid warmth to the sound," said McCowat. "I was skeptical it would be a gimmick at first, but it was incredibly noticeable."
There's also "processing for days; you can have full graphic EQs across every input channel. Whereas you're limited to about 20 on the PM5D." It also has the multi-band dynamics McCowat finds very useful on the CL5, and the stalwart monitoring requirement of two PFL buses remains.
Yamaha Music Australia would like to thank Audio Technology magazine for the use of this article.
RIVAGE PM10 & Adelaide Symphonic Orchestra: a familiar Yamaha feeling