Yamaha de México Provides Sound for the Papal Visit
Yamaha de México Provides Sound for the Papal Visit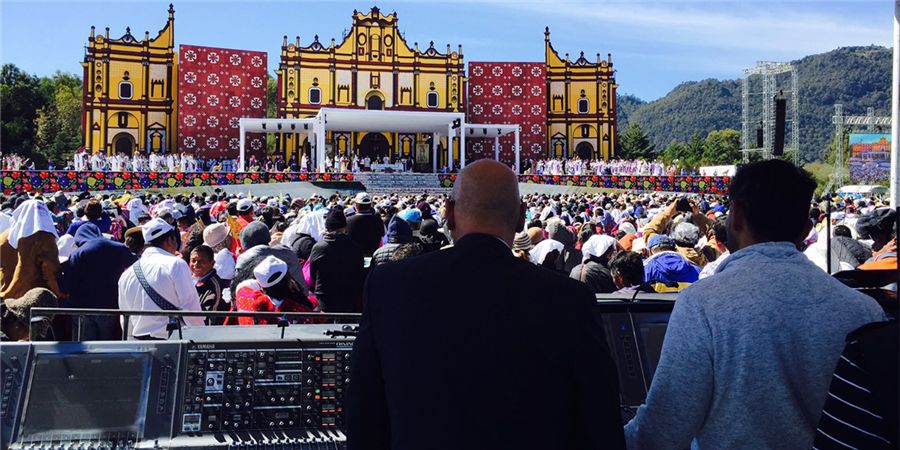 His Holiness Pope Francis, Sovereign of the Vatican City, visited Mexico from February 12 to 17, 2016, where nearly ten million people attended masses and events in a number of cities. Yamaha Mexico provided sound equipment and technical support at three of the most important locations.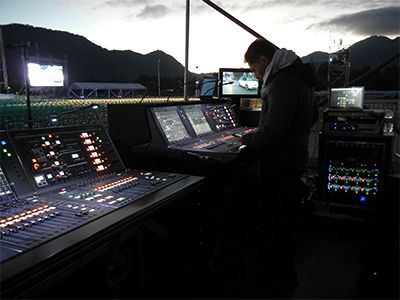 When Pope Francis arrived at the México City International Airport, sound reinforcement company SAE were there to welcome His Holiness with top quality sound provided by two CL5 and two QL1 digital mixing consoles.
Pope Francis later visited Tuxtla Gutierrez and San Cristóbal de las Casas, the two major cities in the state of Chiapas. All events were supervised and produced by Grabiel Berumen and Miriam Villalobos, with coordination by Juan Manuel Avilés. A number of sound reinforcement companies such as Vatel, Troya Eventos, Mix Pro, and Elefante polar were responsible for handling the audio and supplying equipment that included Yamaha RIVAGE PM10, PM5D-RH, CL5, and CL3 digital mixing consoles. Four CL consoles were used at the Jaguares Stadium in Tuxtla Gutierrez to reach more than 110,000 attendees. The RIVAGE PM10 was tested in challenging, extremely dusty outdoor conditions in San Cristóbal de las Casas, with temperatures ranging from 5° to 24°C and humidity as high as 100%. The massive San Cristóbal de las Casas event attracted a crowd of more than 100,000, and made full use of 104 input channels to handle mariachi players, orchestra, and chorus. Advanced audio tools such as Rupert Neve SILK processing and Dan Dugan automated mixing also contributed to the outstanding sound achieved.
Heraclio Bernal, one of México's most prominent engineers who has also been working with international artist Alejandro Fernandez for more than 13 years, was in charge of the FOH console at the San Cristóbal de las Casas event. He shared his impressions of the RIVAGE PM10 with us:
"Operation is very friendly and easy. The sound is impressive, even better than previous Yamaha PM systems, and the included tools make it possible to do things that couldn't even have been imagined in the past. The sound of Rupert Neve SILK and Texture processing was amazing, and ideal for Pope Francis. I chose to use the Blue SILK mode to enhance the low to mid frequencies because His Holiness speaks so far away from the microphone. The result was the same as the proximity effect that would occur if he had been speaking closer to the mic."
"The built-in effects are incredible too. The TC Electronics VSS4HD reverb effects, for example, were used on 48 channels for the chorus with outstanding results. I used the Dan Dugan Automixer capabilities of a Dugan-MY16 card on eight channels for the altar in order to suppress feedback and comb filter effects as well as floor and background noise, with the added advantage that I didn't have to worry about turning the microphones on and off."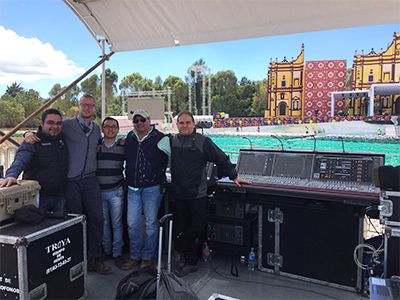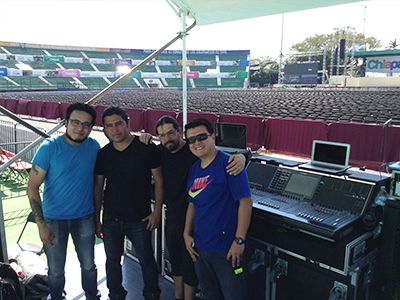 Yamaha de México Provides Sound for the Papal Visit