Biography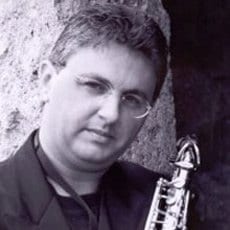 He entered the Valencia Conservatory of Music with a grant from the Spanish Ministry of Education and Science where he studied with Don Gregorio Castellano and graduated with distinction; he was also unanimously awarded the First Class Honours Degree in 1986. He simultaneously worked in Madrid with Pedro Iturralde, and then moved to Paris where he studied for over ten years with the virtuoso Daniel Deffayet (teacher at the Conservatoire National Supérieur de Musique de Paris and a soloist with the Berliner Philarmoniker under Herbert Von Karajan).
An internationally renowned saxophone soloist, he has performed in major concert halls in Spain (the National Auditorium in Madrid, Teatro Real, Fundación Canal, Círculo de Bellas Artes, Fundación Juan March, Palau de la Música de Valencia, Teatro Principal de Alacant, Teatro Principal de Castelló, Seville University, Valencia Polytechnic University, etc.), at the International Festival of Music in the Canary Islands (Teatro Guimerá in Tenerife, Teatro Cuyás in Las Palmas), the International Festival of Music in Segovia, in France (Gap and Paris), Belgium (Dinant), Switzerland (Geneva), Italy (Roma, Milan), Argentina (Buenos Aires, Cordoba), U.S.A. (New York), Canada (Montreal) among others.
In 2006 he took part with the pianist Jesús María Gómez in the European Dream Festival held in the Cervantes Institute in New York, where he premiered works by several Spanish composers - Gosálvez, Peláez, Vilarroig, Durán, Iturralde - with the backing of the Cervantes Institute and the CDMC (Centre for the Dissemination of Contemporary Music).
In 1999 he recorded a series of six concerts for Spanish television's Canal Clásico (the classical music channel) - broadcast in Spain, and the international channel - broadcast in Europe, U.S.A. and Latin America.
He collaborates with the Madrid Symphony Orchestra, the Spanish National Orchestra, Galicia Symphony Orchestra, and is a founding member of the Proyecto Guerrero.
He was Artistic Director and founder of the Valldigna International Music Festival, which has been held every year since 2001 in the Monastery of Santa Maria de la Valldigna, with HRH Queen Sofía as honorary president.
His recordings include the saxophone quartet "Homage to Pedro Iturralde", a CD entitled SAX A PEL, and a CD recorded with the pianist Jesús Gómez entitled "SAXOFOLIA", with participation and conducting by Pedro Iturralde and Daniel Deffayet. The great virtuoso Marcel Mule says of the CD SAXOFOLIA: "...I greatly enjoyed this recording, which is a magnificent testimony to his talent as a saxophonist, and I feel very honoured that an artist of his calibre should defend the cause of this instrument, whose infinite possibilities are still unknown to many, in the Conservatory in Madrid..." His third CD with the pianist Jesús Gómez, entitled SAXTENDRE, was considered by Harmonia Mundi to be one of the best CDs of 2002. As conductor, he has conducted the CD "DE PELICULA" with works by Miguel Asíns Arbó composed for the cinema (Plácido, El Cochecito, El Verdugo, La Vaquilla etc…).
He has recently finished recording his fifth CD with the pianist Jesús María Gómez called SAX A FONS with works by Spanish composers (Falla, Iturralde, Cassadó, Albéniz, Granados etc…).
In 2002 he founded the saxophone quartet "Joaquín Franco" with whom he recorded his sixth CD, again for the label DAHIZ PRODUCTIONS and distributed by GAUDISC.
He was appointed teacher at the Conservatory of Music in Murcia in 1986, and in 1988 he obtained first place in the nationwide examination of the Ministry of Education and Science. Since then has been a teacher at the Gijón Conservatory and at the Arturo Soria Conservatory for Professional Performers in Madrid.
He is currently Director of Studies and saxophone teacher at the Royal Senior Conservatory of Music in Madrid, and is a teacher to the Joven Orquesta Nacional de España (Spanish National Youth Orchestra). He is a member of several juries for international competitions. He is an international advisor and artist for the Japanese firm YAMAHA CORPORATION, whose Yamaha 875 custom EX saxophones he plays.