Biography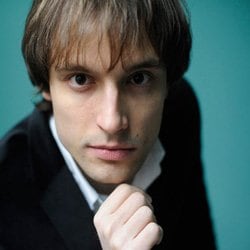 At the very young age of eight, Ilya Rashkovskiy made his solo debut with the Irkutsk Chamber Orchestra. From 1993 to 2000 he received his musical education in Novosibirsk with professor M. Lebenzon. From 2000 to 2009 he studied at the Musikhochschule Hannover with professor V. Krainev and at the École Normale Supérieure Alfred Cortot in Paris with professor M. Rybicki.
Passionate about orchestra conducting and composition, he is following the teachings of Dominique Rouits and Michel Merlet.
Ilya Rashkovskiy was the 1st prize winner at the 8th Hamamatsu International Piano Competition (2012), the Citta di Pinerolo Competition (2012), the International Jaen Competition (2005), and at the Hong Kong International Competition (2005). He is among the top prize winners of the Long-J.Thibaud Competition in Paris (2nd Place), Queen Elisabeth in Brussels (4th Place) and Artur Rubinstein Piano Masters in Tel Aviv (3rd Place).
In addition, he has performed in several prestigious concert venues throughout the world such as La Roque d'Anthéron in France, the Duszniki Zdroj Chopin Festival in Poland, and the Joy of Music Festival in Hong Kong. He has collaborated with the Russian State Symphony Orchestra, the Kiev National Philarmonic Orchestra, the Gulbenkian Orchestra, the Czech National Symphony Orchestra and the New Japan Philharmonic Orchestra.
He recorded the Seasons and Sonata in c-sharp minor by Tchaikovsky (Naxos Label – 2008), Fantasies by Mozart, Chopin, Liszt and Scriabin (Alpha Omega Music Hong Kong – 2009), as well as Chopin's Complete Études in 2013 (Victor Japan).
In 2014, he collaborated with violinist Park Ji-Yoon and recorded a CD featuring sonatas by Hahn, Faure, Shinuh Lee (DUX). A second album was recorded with pianist Giuseppe Andaloro and cellists Giovanni Sollima and Monika Leskovar, presenting Andaloro's transcription of Stravinsky's Rite of Spring for two pianos and two cellos, as well as works by Ravel and Lutoslawsky (Alpha Omega Music Hong Kong).