Four Into Three: Danish Companies Invest In Yamaha RIVAGE PM7
Four Into Three: Danish Companies Invest In Yamaha RIVAGE PM7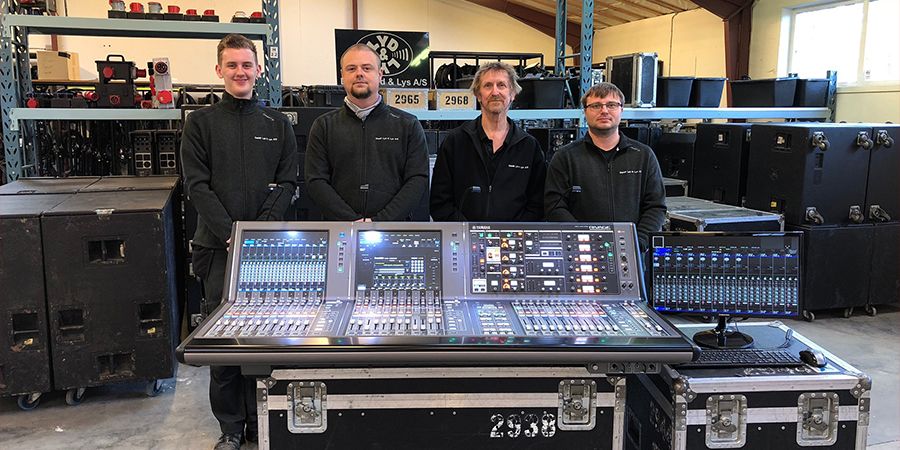 Dansk Lyd og Lys staff Thor Lorenzen, Kristian Kühnel, Jørgen Brosbøl and Søren Jensen with the RIVAGE PM7 system
With the summer festival season just round the corner, bringing live productions from small to huge out into the open air, sales of Yamaha's new RIVAGE PM7 digital mixing system have made a strong start throughout Europe. In Denmark three companies have already invested in four RIVAGE PM7 systems, delivering all the benefits of Yamaha's very latest audio technology to their clients.
The first Danish company to take delivery of RIVAGE PM7 was Dansk Lyd og Lys A/S (Danish Sound and Light) in Odense, a company with 45 years at the heart of the country's music and entertainment market. As one of Denmark's foremost technical production companies, the company provides sales, dry hire and full productions to high profile national / international performers and corporate clients.
Yamaha RIVAGE PM7 fits the company's mission to go beyond its customer's expectations, delivering the facilities of the flagship RIVAGE PM10 system in a relatively compact, highly portable system.
"We have been using Yamaha digital mixers since the LS9 and M7CL, through to the CL and QL series," says Dansk Lyd og Lys chief operating officer and partner Kristian Kühnel. "We have been doing a lot of opera, theatre, symphonic music and musicals in recent last years and we look forward to integrating the RIVAGE PM7 into the heart of these productions."
Three more RIVAGE PM7 systems are due for delivery in April - two to Unico Gruppen and another to PD Productions.
Vejen-based Unico Gruppen's main business is rental and dry hire, as well as designing and installing fixed installations. "Our rental department specialises in audio, but we also supply and manage complete productions," says the company's Michael Henriksen. "We do not want to be the biggest but, with our motto 'The best - on time - for the satisfied customer', we believe two RIVAGE PM7 systems will make a big difference to our clients."
Established in 1998, Copenhagen-based PD Productions specialises in complete production packages, with a primary focus on the corporate market. In addition, it has a growing business in selling solutions for concert halls, educational facilities and other public venues, as well as the private sector.
"For more than 10 years, we have chosen to use Yamaha's digital mixing desks because of their ease of use, sound quality and stability," says company managing director Michael Frederiksen. "For us it was a very easy decision to invest in the RIVAGE PM7 with Rio3224-D2 I/O units. It fits perfectly into our existing stock of Yamaha CL and QL mixing consoles, while offering the extra technical facilities that make the RIVAGE family such an attractive proposition."
Odense / Vejen / Copenhagen, Denmark
Four Into Three: Danish Companies Invest In Yamaha RIVAGE PM7