The ultimate experience in home cinema, Yamaha's AVENTAGE range introduces new technology for a new age
The ultimate experience in home cinema, Yamaha's AVENTAGE range introduces new technology for a new age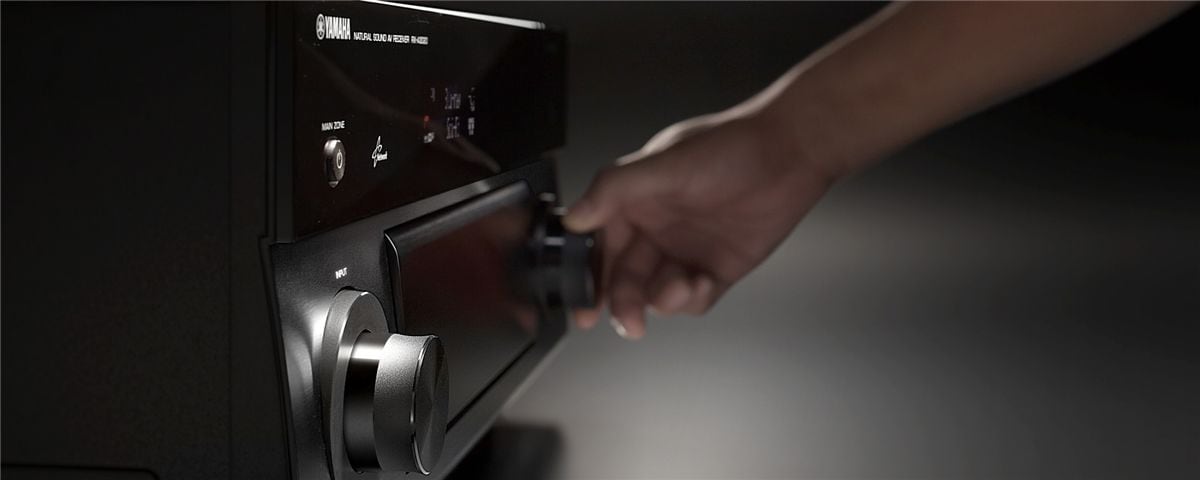 The new range of high end AVENTAGE AV Receivers from Yamaha ushers in a new wave of technology and the very best experience in home cinema and sound quality. The AVENTAGE range truly cement Yamaha's ideal of your home cinema amplifier being for the centre of your audio world, not just the cinema sound. Use MusicCast to send audio all over your house, balanced audio inputs for high end stereo products and use the exclusive CinemaDSP modes to enhance your listening environment. Only from Yamaha, the world's leading AV Receiver and Musical Instrument manufacturer.
New technology
The new AVENTAGE all feature Dolby Atmos and DTS:X object based audio as standard, as well as support for older formats. There's also Yamaha's original CinemaDSP processing on board to make use of all the speakers in your setup regardless of the audio format being used. All those DTS and Dolby DVDs and Blu-Rays will still sound exciting and bring emotion to life with CinemaDSP.
Yamaha developed a new CinemaDSP mode called 'Enhanced' targeted at enhancing Dolby Atmos and DTS:X audio, increasing precision and spatial representation of the sound field. Yamaha's CinemaDSP modes are based on sound field data from real venues all over the world and the new Enhanced mode is no exception. You can simply apply the CinemaDSP processing on top of Atmos or DTS:X by selecting the sound mode, this feature is available from the RX-A1070 and above.
Dolby is known mostly for their high-quality audio formats. With Dolby Vision, an equally impressive standard is available for video. Better contrast and an increased colour space are realised dynamically, creating vivid pictures with unrivalled brilliance. The Yamaha multi-channel receivers also support the HDR standard. No matter if Dolby Vision or HDR is used – combined with 4K Ultra-HD, every model of the Yamaha AVENTAGE series create a breath-taking video experience in the living room. As well as Dolby Vision and HDR, the new AVENTAGE series will receive a firmware update for HLG technology later in 2017.
Convenient features
Yamaha's SCENE technology has been around for years, allowing customers to restore their favourite inputs, CinemaDSP modes, initial volumes and other settings within just the push of a button or tap of an app. The SCENE technology now included in the AVENTAGE range allows for content to be stored within the SCENE presets as well; your favourite net radio stations or an Album on your NAS drive are just a button away!
Yamaha AVENTAGE receivers can automatically calibrate your speakers using the patented YPAO technology, now we can calibrate with higher accuracy at 64-bits from the RX-A1070 and above. Enabling the AV Receiver to further reduce problems that may be present in your room including un-even speaker placement and large objects causing reflections.
Home cinema amplifiers don't just have to be for home cinema. The AVENTAGE range, and in particular the RX-A3070, receive particular attention from Yamaha's sound tuning engineers to sound their very best. Meaning the AVENTAGE range are very musical oriented amplifiers so they're great for music, movies, TV or anything you want to throw at them. To that end, the RX-A3070 has had an input expansion, now featuring an XLR balanced stereo input. Further adding to the Yamaha's credibility as a 2ch capable AV Receiver.
A DAB/DAB+ radio is included on every AVENTAGE AVR from the RX-A670 and above, allowing you to listen to all your favourite local radio stations in superb DAB quality. What's more, the DAB/DAB+ radio can be shared to other devices across the home using MusicCast. So if you want to listen to DAB in the kitchen but only have a small wireless speaker like a WX-010, it's no problem! Simply start the DAB through your AVR and link to the Kitchen in a few taps of the app.
MusicCast multi-room
As with most of the broader product range, the AVENTAGE series of AV Receivers feature Yamaha's MusicCast wireless music system on board; Yamaha's original multi-room technology. Offering more than most conventional systems, the MusicCast system has streaming services such as Spotify and Qobuz on board as well as future support for TIDAL and Deezer coming via a firmware update. There's net radio with thousands of radio from all over the globe at your fingertips and of course access to all of your music on a NAS or local network device. MusicCast also supports hi-res audio files up to 192 kHz 24 Bit in WAV, FLAC and AIFF, 96 kHz 24 bit in ALAC format and also the AVENTAGE range support up to 5.6MHz DSD files.
Not only this but MusicCast (and therefore the AVENTAGE range) supports Bluetooth and Airplay as well as a rather unique Bluetooth transmission technology. If you already own a pair of Bluetooth headphones or a Bluetooth speaker from any brand, you can use it to listen to any audio that's being played on the AV Receiver. Great for late night listening or for taking your music/TV audio out into the garden during the summer months with Bluetooth speaker.
The real party trick of MusicCast is the ability to send any audio from any device to any other device over your home network. Simply open the app, start playing what you want to share, then link another device in the home – easy! This can be any audio, whether it be from your HDMI inputs, digital or analogue, network sources, vinyl playback from the built-in phono stage or even audio from the TV over ARC… anything can be shared and distributed easily. Keep up on the football game while you get the drinks in from the Kitchen or simply send audio all over the house to get the party started.
MusicCast is available on close to 50 devices in Yamaha's product range and all of them are controlled in the same way as your AV Receiver. Simply add the product to MusicCast with a few button presses, pick your room, pick your tunes and enjoy! The app is available for free with a demo mode if you want to try it ahead of time via the Android and Apple app stores.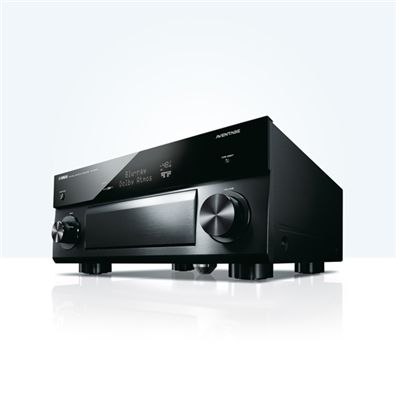 Flagship 9.2-channel AVENTAGE AV receiver offering the ultimate in sound quality and 3D presence.

Outras cores disponíveis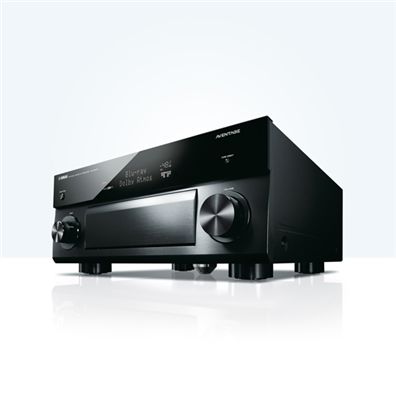 Superior 9.2-channel AV receiver, only made possible by Yamaha's advanced technology and expertise.

Outras cores disponíveis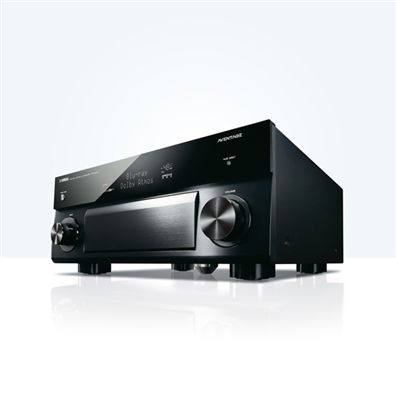 High-end 7.2-channel model with incredible audio capabilities and extensive video functionality.

Outras cores disponíveis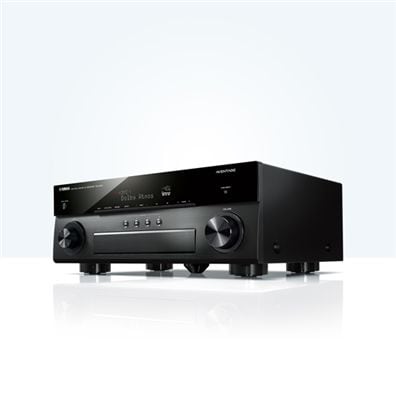 7.2-channel AVENTAGE AV receiver that combines high power with a huge range of great features.

Outras cores disponíveis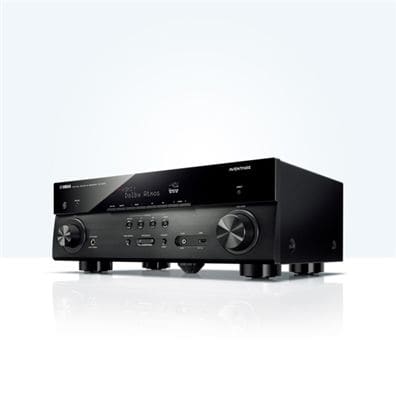 7.2-channel model supports MusicCast to ensure the widest possible range of entertainment choices.

Outras cores disponíveis
The ultimate experience in home cinema, Yamaha's AVENTAGE range introduces new technology for a new age