PianoCraft in your network: Yamaha presents the elegant Micro HiFi System MCR-N560, focussed on digital music with AirPlay, Internet Radio and high-res audio streaming
PianoCraft in your network: Yamaha presents the elegant Micro HiFi System MCR-N560, focussed on digital music with AirPlay, Internet Radio and high-res audio streaming
PianoCraft in your network: Yamaha presents the elegant Micro HiFi System MCR-N560, focussed on digital music with AirPlay, Internet Radio and high-res audio streaming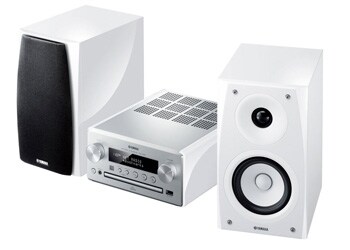 Rellingen, 30. August, 2013 – Since its launch in 2000, Yamaha's PianoCraft series has represented excellent HiFi sound from a compact and sophisticated Micro Component System. The MCR-N560 is the first model to fully connect to the digital world: It focuses on streaming of high-resolution music through the network, wireless play from smartphones and tablet-PCs as well as the reception of Internet radio. Conventional media have not been ignored either: Playback from audio CDs and USB media is possible as well as receiving FM/AM radio.

Music streaming and convenient control via app
The free NP Controller App for iOS and Android allows convenient control with smartphones and tablet-PCs. Thanks to Yamaha Music Play, the app also makes wireless transmission of music to the PianoCraft system possible.

High-res audio, thousands of Internet radio stations
Through the easy network integration of the MCR-N560, digital audio files stored on computer or NAS can be conveniently played back. High-resolution formats like 192 kHz / 24 bit FLAC are supported as well as compressed files like MP3 or AAC. With the vTuner database, the MCR-N560 has access to thousands of Internet radio stations. Grouped by category, the right station for every taste is always at hand.

Elaborate digital amplifier and sophisticated signal paths
To ensure excellent stereo sound with minimised signal loss, the MCR-N560 features a high-quality digital amplifier. Furthermore, the sophisticated circuits use separate circuit boards for CD and network audio. Separating the power source and ground of the signal processor and the amplifier minimises mutual interference of audio signals.

Technology by Yamaha for excellent Speakers
In addition to the excellent technology used for the amplifier and the converter, the specially developed 2-way speakers guarantee perfect sound. They feature a 3 cm soft dome tweeter and a 12 cm cone woofer. The woofer is an A-PMD (Advanced Polymer Injected Myca Diaphragm) unit. This proprietary technology by Yamaha uses a special synthetic membrane that is exceptionally rigid. The white colour symbolises Yamaha's dedication to excellent sound quality. The speaker chassis employs Yamaha's VCCS (Vibration Control Cabinet Structure) technology and effectively eliminates the influence of unwanted vibrations.

Quality materials, elegant design
The receiver unit combines a hairline-finish aluminium front panel and piano or wood-grain side panels. The whole chassis of the PianoCraft system radiates elegance in the tradition of legendary HiFi components by Yamaha.

MCR-N560D with DAB+ tuner for digital radio entertainment
Besides the MCR-N560, Yamaha also offers the DAB model MCR-N560D. It features an additional, integrated DAB+ tuner that allows digital radio reception of supreme quality.

Yamaha's Micro Component Systems MCR-N560 and MCR-N560D will be available in stores from autumn 2013.

Experience YAMAHA at IFA 2013 – live in Berlin or online
Visit Yamaha at IFA 2013! Experience the new products in Berlin from September 6 to 11. You will find Yamaha in hall 1.2, booth 101.

For those who cannot make it to IFA this year, YAMAHA has created an IFA Special Page online. Alongside presentations of all the new products, you will find videos, interviews and interactive panoramas of our booth on this special website.


PianoCraft in your network: Yamaha presents the elegant Micro HiFi System MCR-N560, focussed on digital music with AirPlay, Internet Radio and high-res audio streaming