Biografia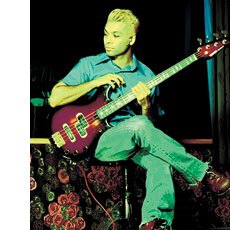 Tony's first instrument was the saxophone, but when he switched to the bass at age 15 he found himself in great demand and played in the Anaheim High School Jazz Band for a number of years.
Tony's first love of hip-hop and the music of Prince ruled his playing for a long time until one night when he found himself knocked over by a ska band fronted by an innocent looking girl. The girl was Gwen Stefani and the band was No Doubt.
When Tony learned that the band's current bass player was leaving and the vacancy was open, the next step was a no-brainer. Turning up at the Stefani's house ready to audition a few weeks later, Tony played two songs and was in the band.
In the years to follow, No Doubt went from strength to strength. With massive hits like 'Don't Speak', taken from the 1995 album Tragic Kingdom, No Doubt confirmed their place as the massively influential face of the new wave of ska. Supporting huge acts like the Red Hot Chilli Peppers and U2, on 2001's Elevation Tour, No Doubt are massively popular and Tony's trademark Yamaha BB basses have been with him all the way.
Other Guitar & Bass Artists