Biography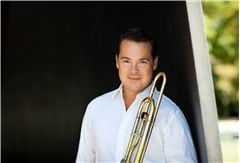 Jamie Williams born in 1979, began playing the trombone at the age of eleven in his native St. Petersburg, Florida. After only four years of studying, he began taking private lessons with some of the most renowned brass teachers in the United States. At the same time, he began performing regularly with a variety of professional orchestras. He was a member of the Prometheus Chamber Orchestra and the Albany Symphony. At the young age of 18,he began as a full-time student at The Juilliard School. His most important teachers have been Joseph Alessi, Per Brevig, Jonas Bylund and Michel Becquet.
In 2003, Jamie Williams was appointed principal trombone of the Dortmund Philharmonic and moved to Germany. Since then, he has played frequently with many of the most important German orchestras. The Berlin Philharmonic, Deutsche Symphony Orchestra, Radio Symphony Orchestra Berlin, Cologne Opera, Orchestra of the Staatsoper Berlin, Dresden Staatskapelle and the Hamburg Opera are only a few of the many engagements fulfilled in the recent years. He has performed with conductors such as Daniel Barenboim, Sir Simon Rattle, Kurt Masur, and Seiji Ozawa, to name only a few.
Jamie Williams has been awarded many prizes in the USA and Europe. In the solo competitions of the International Trombone Association, he was honored with the first prize in 2001, 2002, and 2003. He also won first prize at the Eastern Trombone Workshop Competition, the Zellmer-Minnesota Orchestra Competition, and the Bach Festival Society Competition. He was awarded second prize in the international competitions of the New York Tilden Prize and the Conn-Christian Lindberg Competition in Spain.
He has participated in many diverse festivals such as the International Orchesterinstitute Attergau in Austria, the National Repertory Orchestra, and the Music Academy of the West in California, where he was awarded first prize in the concerto competition.
His interest in modern music has given him the opportunity to play concerts in many European countries. With the musikFabrik, a leading contemporary music ensemble in Cologne, Germany, Jamie Williams has performed in Cité de la Musique in Paris, at the Wiener Festwochen, and in Warsaw and Madrid. In 2008, he performed Paul Creston's Fantasy for Trombone and Orchestra with the Dortmund Philharmonic. He presented the Concertino by Ferdinand David with the Bochum Symphony in 2010 as a Soloist of the German International Trombone Festival. In 2011, Jamie Williams was a soloist in the world-renowned Berlin Philharmonie, performing the trombone concerto of Henri Tomasi.
Besides giving master-classes in countries such as Argentina, Spain, France, Germany, Slovenia, Poland, and the United States, he served on the competitions committee of the International Trombone Association from 2005 to 2008 with fellow trombonists such as Jiggs Whigham and Dennis Wick.
Since 2010, Jamie Williams has been the Principal Trombonist of the Deutsche Oper Berlin and has taught at the music conservatory in Rostock. In 2011, he was appointed Yamaha Artist.