Biography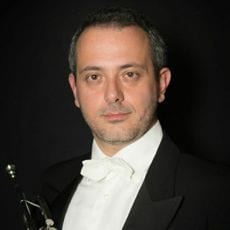 During his time in the orchestra, Emanuele performed under many great conductors such as Riccardo Muti, Georges Pretre, Dimitri Kitaenko and Gianandrea Noseda and following on from his time in the orchestra, Emanuele went on to study in the USA where he had lessons with Barbara Butler, Philip Smith and Douglas Prosser.
Emanuele is now Principal Trumpet with the Camerata Strumentale Città di Prato and is the founder of the European Trumpet Academy in Alessandria (Italy), a project in collaboration with Yamaha.
He is specialised in trumpet embouchure problem solving and his help is sought by many trumpet players, both students and professionals.
This expertise has meant that Emanuele has been invited to give master classes all around the world including at the Royal Northern College of Music in Manchester UK, the São Paulo University in Brasil, the Tokyo University in Japan, the "G.Verdi" Conservatory of Music in Milan, the "Lucio Campiani" Conservatory of Music in Mantua and he has already received invitations for further master classes in the coming months.
During his career, Emanuele has held the Principal Trumpet position with the Milan Symphony Orchestra "G.Verdi", the Assistant Principal Trumpet position with the BBC Philharmonic and the Associate Principal/Second Trumpet position with the Symphonica Toscanini Orchestra (Lorin Maazel Music Director).
Emanuele performed as Guest Principal Trumpet with La Scala Opera House and La Scala Philharmonic, Philharmonia Orchestra, Teatro La Fenice in Venice, Opera of Rome, Maggio Musicale Fiorentino in Florence, Orchestra of Tuscany in Florence, Teatro Massimo in Palermo, Lyric Theatre in Cagliari, Toscanini Orchestra in Parma, Swiss-Italian Radio Television Orchestra in Lugano in Switzerland, Tenerife Symphony Orchestra and Galicia Symphony Orchestra in La Coruña in Spain, Mahler Chamber Orchestra, I Solisti Veneti, with whom he has also frequently performed as soloist.
Emanuele has appeared in a number of RAI, BBC and ARD broadcasts and has played in the world's most prestigious concert halls with some great conductors including Riccardo Muti, Lorin Maazel, Claudio Abbado, Zubin Mehta, Wolfgang Sawallisch, Giuseppe Sinopoli, Georges Prêtre,
Rafael Fruebeck de Burgos, Esa Pekka Saalonen, Christophe von Dohnanyi, Riccardo Chailly, Myung Wuhn Chung, Charles Dutoit, Sir Colin Davis, Kent Nagano, Claudio Scimone, Aldo Ceccato, to name just a few.
Emanuele's trumpet playing has been influenced by a number of other teachers including Bo Nilsson, Gabriele Cassone, Pierre Gillet and Stephen Burns.
Emanuele was recently awarded the "Golden Bridge" by his hometown Pontelambro, as one of its most distinguished residents.
To find out more about the European Trumpet Academy visit
www.europeantrumpetacademy.it
or alternatively visit their Facebook page
https://www.facebook.com/europeantrumpetacademy/timeline?ref=page_internal.